Fight psoriasis naturally
Pack: 1 x 15 Capsules (Blister Pack) in Mono Carton
Description
Sorabion Capsules
Fight psoriasis naturally
Therapeutic Segment : Antipsoriatic
Packing : 1 x 15 Capsules (Blister Pack) in Mono Carton
Benefits :
Safe, effective and long term relief from the symptoms of scaling, flaking and redness associated with psoriasis
Effective herbal mixture balances the immune system and helps to clean toxins to control inflammation of the skin
Offers antioxidant, anti-inflammatory and antiproliferative properties in the treatment of Psoriasis
Powerful herbs shows a positive effect on TNF cytokine expression which plays a important part in the formation of psoriatic
lesions
Helpful in treating eczema & seborrheic dermatitis
Giloy
Giloy works as an immunomodulatory in body
Triphala
Removes toxins and rejuvenates the systems of body.
Terminalia chebula
It is particularly known for its potent antioxidant
Haldi
Enhances the complexion and benefits skin.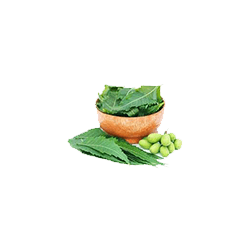 Neem
It is named "Pichumarda" beneficial in skin diseases.
Sehijan Fruit
Help in reducing inflammation associated with psoriasis
Khadir Saar
Has anti-helmintic & anti-inflammatory properties
Manjishtha Root
Nourishes the skin; detoxifies the body
Sariba Root
Sariva protects skin from infections and clears heat
Vasa Leaf
Detoxifying, blood purifying effect to treat skin diseases
Composition
Each soft gelatin capsule contains :
| | |
| --- | --- |
| Giloy (Tinospora cordifolia) Stem | 70 mg |
| Daruhaldi (Berberis aristata) Root | 50 mg |
| Bakuchi (Psoralea corylifolia) Seed | 20 mg |
| Triphala (Emblica officinalis | |
| Terminalia chebula | |
| Terminalia bellerica) Fruit | 60 mg |
| Neem (Azadirachta indica) Bark | 60 mg |
| Sehijan (Moringa pterygospermum) Fruit | 60 mg |
| Khadir (Acacia catechu) Khadir Saar | 60 mg |
| Manjishtha (Rubia cordifolia) Root | 80 mg |
| Sariba (Hemidesmus indicus) Root | 60 mg |
| Patol Patra (Trichosanthes dioica) Leaf | 25 mg |
| Haldi (Curcuma longa) Rhizome | 80 mg |
| Vasa (Adhatoda vasica) Leaf | 60 mg |
| Swarna Gairik (Ochre-Iron oxide) Whole | 15 mg |
| Shudha Gandhak (Sulphurium) Whole | 10 mg |
| Permitted Excipients & preservatives q.s. | |
Additional information
| | |
| --- | --- |
| Dosage Form | |
| Therapeutic Segment | |